Hospital Furniture - Strecher (Patient Trolley)
Ambulance Stretcher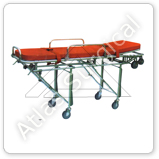 Discription
Light weight, strong structure, lovely design, good arts and crafts, easy antisepsis, small size, convenient to use.
Utilizes high precision mechanical transmission.
Can be used automatically folded through the left and right hand control handle. Made of high quality aluminium alloy tubes.
Diameter of the castors: 125mm.
Applicable for various kind of hospitals, emergency centers, ambulances and battle fields.

Emergency Recovery Trolley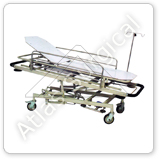 Description
Two section top.
Height adjusted by foot operated imported hydraulic pump.
Gas spring assisted Trendelenburg/Reverse Trendelenburg positions.
Complete with corner buffers, synthetic rubber covered handles, sliding X-ray cassette, accessories tray, oxygen cylinder holder, SS telescopic IV rod and swing away SS side rails.
Pretreated and powder coated.
Four imported swivel castors, 15cms dia, two with total lock.
X-ray Permeable removable stretcher, backrest raised on ratchet.
Emergency Trolley Mechanicaly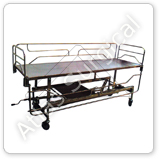 Foldable Stretcher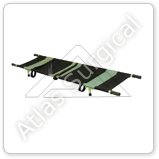 Description
M.S. Pole width wise fold.
Finish : Pretreated and Epoxy powder coated.
Patient Trolley with Fixed Cushioned 2 Section Top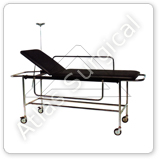 Stretcher on Trolley with Mattress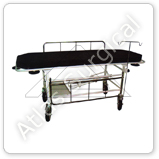 Description
Frame work made of Tubular MS Pipe Swing Away type Safety Side Railing.
Adjustable I.V. Road , Utility Tray, Cylinder Cage Foam padded top.
Trolley mount on 15 cms Dia castors- Two with Brakes.
Finish: Pretreated & Epoxy Powder Coated.
Stretcher Trolley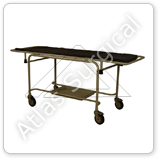 Stretcher Trolley with Side Railing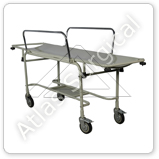 Transfer Trolley System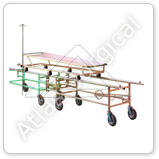 Description
MS tubular frame mounted on four swivel castors, 15 cms dia.
The under-carriages can be interlocked lengthwise and the stretcher rolled over from one carriage to another on rollers.
Stretcher can be raised at one end on ratchet. SS IV rod with two locations.
Gas cylinder provision in one under-carriage.
Finish : Pretreated and epoxy powder coated.

| certificates | policy | | |
| --- | --- | --- | --- |
| ISO Certification | Enviroment Policy | feedback | Career with us |
| CE Certificate | Quality Policy | Testimonials | |
| DCC Certificate | Labour Policy | | |