Plastic Wares
3 Tier Test Tube Stand
These racks with a 3-tier design provide clear view of the tube contents & convenient insertion & removal of tubes. The PC rack has transparent upper & middle plates where as in PP racks, every part is coloured & opaque.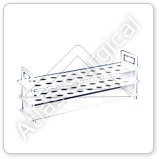 Aspirator Bottle
Atlas aspirator bottles are made of polypropylene and are therefore much lighter than glass. These are autoclavable, durable & dependable. The leadproof spigot screwed to the bottle body requires only a half turn to open or close. These bottles are used ofr storing or dispensing distilled water & other laboratory solutions.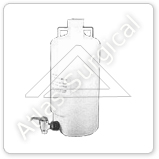 Beakers Plastic
Atlas beakers, moulded in Polypropylene, have excellent clarity and very good chemical resistance. These autoclavable beakers have prominently raised graduations on the outer surface. Pouring a solution becomes very convenient because of its tapered spout.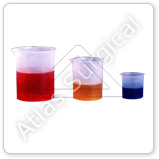 Funnel Long Stem
These long stem plastic funnel have smooth walls, 60 cone angle and external ribs to prevent air lock. Moulded in polypropylene, these clear funnels can also be steam autoclaved.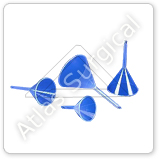 Conical Flask
Made of polypropylene, these cone shaped flasks are rigid, translucent & autoclavable. The screw cap keeps the contents of the flask contamination free and makes the flask leakproof..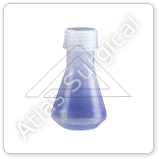 Conical Measures
These Conical Measures are very good for measuring small quantities of reagents. Moulded in Polypropylene, these autoclavable measures have a hexagonal base which provides it excellent stability. The measures are clear, have good chemical resistance and have raised graduations for easy reading.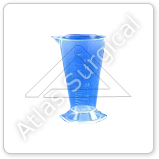 Reagent Bottle (Wide Mouth)
These wide mouth reagent bottles are available in Polypropylene as well as Polyethylene. The PP bottles are rigid, translucent and have excellent contact clarity. These bottles can be autoclaved filled as well as empty. On the other hand, the polyethylene bottles too have excellent strength and are unbreakable. The polypropylene cap has a built in seal ring to make these bottles leakproof. Material : Low density polyethylene & Polypropylene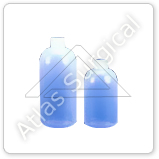 Sample Container (Press Fit Type)
The disposable Containers are used for collecting samples of sputum or urine etc. graduated on the outer surface. Made of Polypropylene, these have cap that work in a press & fit manner & make these containers leakproof. The containers are E.T.O. sterilized.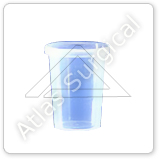 Wash Bottle
Atlas wash bottles are translucent & unbreakable character. Solutions can be poured easily by squeezing the bottle lightly. The cap is fitted with a flexible delivery tube which can be aimed where ever required.
Test Tube Stand
Atlas Test Tube Stand is Moulded in polypropylene, this stand gives a stair like top view. Every step provides good support to the Test Tube at every point of contact. This stackable stand can also be steam autoclaved.
Measuring Cylinders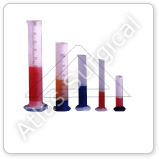 Measuring Jugs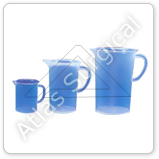 Coplin Jar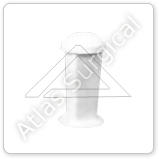 Bottle Amber